Why Couldn't The Bucs Grab Santonio Holmes?
April 12th, 2010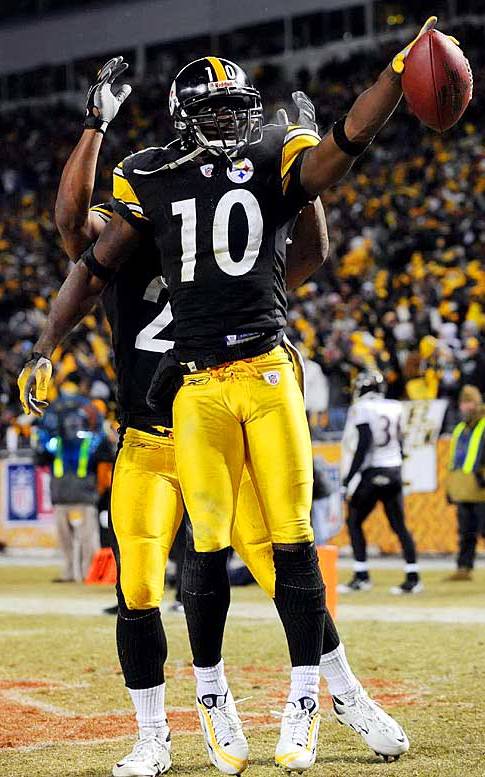 It's just before midnight and Joe checked his Twitter account as he is wont to do for late-night breaking news.
Ding! The Steelers traded former first round pick, Super Bowl hero and noted weed smoker Santonio Holmes, 26, to the Jets for a fifth round pick.
That is not a typo: A fifth round pick. Fifth round!!!
Now Joe understands this guy has loads of baggage, including being accused of slapping around women, telling fans they should commit suicide, bragging about "waking and baking" and his reputation of being a left-handed cigarette smoker.
But we're talking a fifth round pick.
For a fifth round pick, it was beyond worth the Bucs trading for Holmes. He's better than Brandon Marshall (who Denver has trouble trading for a second round pick) and instantly would be Josh Freeman's go-to guy.
Joe is just stunned. Holmes could have been had for a fifth round pick, and the Bucs, desperate for a wide receiver, did nothing!
Look, we're not talking about high crimes here. Yes, Joe understands Holmes will likely start the season with a four-game suspension. His biggest problem is the dude cannot put down the bong. Surely Steelers coach Mike Tomlin tipped off Raheem the Dream that Holmes, a former first round pick from Ohio State who is from Belle Glade, could be had for cheap.
And the Bucs, who have a wide receiver corps that is not much better than Florida State's, couldn't cough up a fifth round pick for Holmes? Seriously?!
Joe is just aghast!