Warren Sapp Schools Gerald McCoy
April 23rd, 2010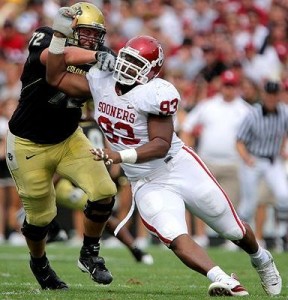 Joe first posted this a few weeks ago and thought he'd post it again. It's a clip of former Bucs great Warren Sapp showing new Bucs defensive tackle how to put the moves on an offensive guard.
As former Bucs defensive lineman Steve White pointed out, the move Sapp puts on McCoy in the NFL Network video below is Sapp's famous "Ghost Move."
Who better to teach stud Oklahoma defensive tackle Gerald McCoy a few moves than former Bucs great Warren Sapp?
Recently on the set of the NFL Network, Sapp, an NFL Network analyst, and host Rich Eisen welcome McCoy. While on the set, McCoy shows Sapp his signature moves, but they weren't good enough for Sapp.
Sapp then demonstrated to McCoy how a Hall of Fame NFL tackle makes a quarterback pay.