Some Hype For The Bucs
April 30th, 2010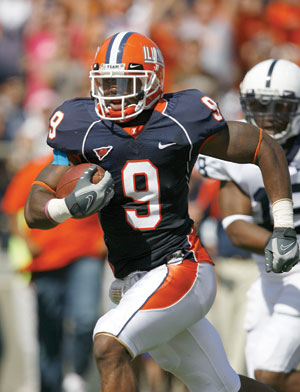 NFL player turned journalist Matt Bowen is feeling quite upbeat about what Josh Freeman and the Bucs can accomplish in 2010.
He's not predicting the Bucs contend for a division crown, but he tells his NationalFootballPost.com readers that Bucs fans should be very excited.
With Benn and Williams, the Bucs now have two receivers who can match up physically against NFL DBs and who can both provide something different in the passing game.

Williams can get vertical and can go up, high point the ball and make plays down the field. From a size/speed impact, he could turn out to be one of the steals of the draft. In Benn, the former Illinois product, Tampa might have a player who can emulate what Anquan Boldin did for the Cardinals and is expected to do with the Ravens this season once he gets the ball in his hands. He is the type of player who can break tackles and pile up yards after the catch.

Both are major upgrades from the WRs that Freeman had to work with in '09.
Joe's all for the rampant optimism Bowen has for the team. It's nice to see the Bucs getting some national love. But does Bowen really believe, as he states, that both rookie receivers are upgrades from Antonio Bryant?
Joe would be very happy if Arrelious Benn or Mike Williams turn out to be upgrades from Bryant in two years.
Joe just can't place that high an expectation on a rookie.