Might The Cowboys Inquire About Donald Penn?
April 2nd, 2010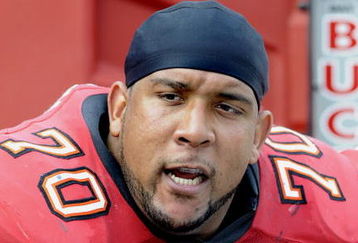 Upon learning the Cowboys are cutting their longtime left tackle Flozell Adams without a strong replacement on their roster, Joe couldn't help but wonder where Dallass will turn to fill that hole.
Surely, Dallass has seen first hand (twice) — and on film — the impressive body of work turned in by Donald Penn over the last three seasons.
Penn is now a restricted free agent with a first- and third-round tender, but that doesn't mean the Bucs couldn't trade him outright for, say, for the Cowboys' first round pick, No. 27 overall.
Might Mark Dominik consider such an offer?
The Bucs could then draft left tackle manbeast Russell Okung with the No. 3 overall pick and grab another first round pick in a draft Dominik has touted as a virtual candy store for talent-starved teams.
Penn will be 28 entering the 2011 season, and Team Glazer might scoff at paying the likely steep asking price when he hits unrestricted free agency, especially if they think Penn has weight problems and if Penn jacks up the price after a great season against a weaker schedule and Julius Peppers out of the division.
And maybe Penn might want to leave town? And maybe Jerry Jones might be willing to pay a steep price for Penn to try and snag that home-game Super Bowl after this season?
At first glance, Joe wouldn't make the move. But if the Bucs are seemingly content with not contending in 2010, and there's a chance Penn walks, then maybe it's a deal worth making.