Draft Will Be Midway Or Waterloo For Dominik
April 18th, 2010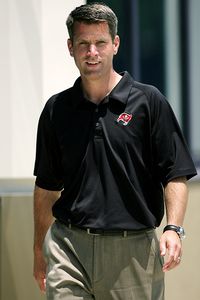 This is the week that may make or break Mark Dominik as an NFL general manager. The draft is just four days away. It's what Dominik has been preparing for since he was named the Bucs general manager 15 months ago.
Veteran Tampa Bay area scribe Gary Shelton of the St. Petersburg Times notes how Dominik's career fork in the road is fast approaching.
This is the week Dominik defines the family name. He either makes it sound like royalty, like one of those names that rolls pleasantly off the tongue, or he changes the pronunciation of it into something that sounds like a curse word. This week, he fashions the family crest. This week, he writes his own Wikipedia page.

This week, Dominik either turns around a franchise or he might as well turn around and leave.

Oh, and Mark?

No pressure, dude.
In roughly four years, it will be fair to judge Dominik's prowess this week selecting players. This week may make him either the next Ernie Accorsi or the next Vinny Cerrato. This week could either be Dominik's Chester Nimitz's Midway moment or it could be Dominik's George McClellan's Special Order 191 Antietam moment.
Joe has already written about how dangerous it is to put the proverbial all eggs in the basket, banking on one draft to turn a franchise around. Joe won't even bring up not swapping a throwaway fifth round pick for Santonio Holmes who could do wonders for a positively woeful receiving corps.
Banking on this draft to ressurect the Bucs is the football equivilent of loading the bases for Albert Pujols with two outs.
Pujols could ground out. Just as easily, he could hit a grand slam.
That's what Dominik has done. He's walked the bases loaded.