Bull Rush: Sides Matter Greatly
April 15th, 2010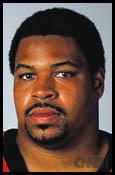 By STEVE WHITE
JoeBucsFan.com analyst
Steve White spent every season of the Tony Dungy era (1996-2001) playing defensive end for the Bucs. He's spent countless hours in the film room with the likes of Warren Sapp, Rod Marinelli and more. Joe is humbled to have White, also a published
author
and
blogger
, as part of the JoeBucsFan.com team. Recently, White even contributed "Insider" NFL Draft content to ESPN.com. 
Below is White's weekly Bull Rush column that breaks down all things defense with a focus on the defensive line. It's simply a can't-miss read for the hardcore Bucs fan. 
With the 2009 season over, White has broken down every Bucs defensive lineman and is now sharing various takes on offseason preparation.
Today, White goes deep into a newer trend in the NFL of flip-flopping defensive ends to either side of the line, and how that trend has impacted the Bucs.
When you remember Reggie White, Bruce Smith, Chris Doleman or Michael Strahan sacking the quarterback, which side of the line do you imagine them coming from?
I ask because those guys are the top four defensive ends on the all time sacks list. I also ask because all four guys played the overwhelming majority of their careers on one side.
White and Strahan are always remembered as dominant left ends while Smith and Doleman are always remembered as dominant right ends. From almost time immemorial, the greatest defensive ends in the game picked one side and stuck to it for most of their career. But in recent years that trend has started to change.
One of the most significant moves from one side to the other was, of course, when the Carolina Panthers moved their standout defensive end Julius Peppers from left end to right end when their starter at right end, Mike Rucker, retired in 2008.
Peppers who had just 2.5 sacks in the preceding season ended up with 25 sacks over the course of the next two seasons playing primarily from the right end.
However, for all of Peppers' production, there was still a stigma attached to him that his play was inconsistent. Several sports pundits and even a teammate of his questioned his commitment to the game even though in eight seasons he averaged just a bit over 10 sacks a season. As a matter of fact, a curious thing happened this past season just after his teammate, Jon Beason, called him out for not being as "intense" as he would like, which not many people in the sports media picked up on.
Peppers started lining up at left end a lot more. Peppers only had one sack at the time that Beason called him out so to speak, yet after spending more time rushing from the left side the rest of the year he ended up yet again posting double digit sacks with 10.5. That leads me to the question. …
Is it better to move defensive ends around nowadays as many teams are doing, or should they stick to what has always worked and keep them on the side they are most comfortable on?
Obviously, my own experience colors this conversation. In college I only played left end very briefly early in my career. After I started playing right end, I found my comfort zone.
For most of my NFL career I was a right end, but as a backup I had to be able to play both. And I can tell you that it's not an easy matter. Not only do you have to be able to mimic your movements in reverse, you also have different challenges depending upon what side you line up on.
Switching Likely Hurt Gaines Adams
As a right end, you have a lot more freedom to make pass rush moves without as much regard for keeping containment. As a left end facing predominantly right handed quarterbacks, if you lose containment on the rush you could end up costing the whole defense and, thus the team, dearly.
My one year playing with the Jets our defense called for the ends to line up according to formation from play to play. So one down you might be on the left side and the next you might be on the right side. I have to say that at times it was the most frustrating season of my career because I never felt like I could get into a groove rushing either tackle.
This question has come up for me for two reasons. The first one being that the Bucs were toying with the idea of signing Alex Brown who has played right end all of his career, ostensibly to play left end for us. Brown ended up signing with the Saints also to play left end, so the question still remains.
The other reason is because I truly believe that the Buccaneers likely hindered Gaines Adams' development by flipping him to left end in definite passing situations. I realize that he played left end in college but once they made him a right end with the Bucs, in my opinion, that's what he should have played. It's hard to go against an offensive tackle for two downs and set him up for a move only to end up rushing from the other tackle on third down who up until that point you haven't seen before.
And it doesn't really get any better because you only get to see one tackle occasionally, while you play the other guy down after down wearing him down only to have the opportunity to burn him taken away.
From Waltz To Salsa
You see, pass rushing is like this complicated dance where you work move after move in hopes of getting to the quarterback. You work one move and based on the outcome you decide whether to work the same move or a different move the next time. You try to keep the Offensive lineman guessing. So when the game is on the line and you have to come home, he has no clue what you are about to do. Switching sides on every third down is like changing dance partners from a waltz to a salsa and you end up having to make it up almost as you go along.
The Bucs and Saints are obviously not the only teams who believe that shifting their ends around is not a big deal.
This offseason the Jacksonville Jaguars signed an injured Aaron Kampman who had been a left end for most of his career with the Green Bay Packers, to a big contract to play right end for them. At the time of the signing I expressed my skepticism about the move, and I still am not sure it will work out well for them. Kampman was a very effective rusher from the left side but while his power moves were money against right tackles, when dealing with left tackles you are generally going to have to be able to use more finesse. I am definitely not saying that Kampman can't do it, I'm just pointing out that finesse moves haven't been a big part of his game so far.
In a bit of irony Kampman himself tried to justify the move by comparing himself to Minnesota Vikings Pro Bowl right end Jared Allen:
A left end at Green Bay, Kampman sees his situation as being similar to that of Jared Allen, who played left end at Kansas City before switching to the right side in Minnesota, where he racked up 14.5 sacks last season.
There was just one problem with that comparison, Jared Allen never played left end.
One thing to consider, as always, is money. Many teams also believe that your big money defensive end has to play on the right side. Obviously, White and Strahan as well as other left ends make that sentiment bogus. Yet still the sentiment persists.
And in all reality, I think the size of Kampman's contract more than anything else is behind the Jaguars' decision to move Kampman to the right side.
Again, there's nothing wrong with that and there are some guys I can point to who flip from one side to the next from play to play and are still productive. John Abraham for the Falcons has done it through out his career and been good at it. Hell, for a while Simeon Rice did it here in Tampa on occasion. But those guys tend to be the exception rather than the rule.
Bucs Were Flip-Floppers In '09
The conventional wisdom is that the Bucs will select a defensive end in the top four rounds of this draft. With last year's starter at left end, Jimmy Wilkerson, being injured and also being courted by other teams there is no guarantee that he will be coming back.
For that reason many (not me) believe defensive end is a position of need for the Bucs. But the question I have is will they try to draft a left end who is used to playing the position in college to come in and try to fill that starting role here, or will they go with a guy who played right end in college and try to move him to left end in the pros. I am obviously in the traditionalist camp that believes you draft a left end to play left end, but I'm not sure the Buccaneers feel the same way.
One hint is in the fact that when their right defensive end, Greg (Stylez) White, was injured for a game last year and didn't start, the Bucs moved Wilkerson over to start in his place and had Tim Crowder start at left end.
It made absolutely no sense to me to move Wilkerson, who was having a pretty productive year at left end, over to the right side when Crowder had been backing up both side since signing with the team. For that matter, Crowder also looked better in my opinion rushing from the right side than from the left side for most of the year. For me, that was proof that whomever made the decision to flip flop Adams on third downs was probably still involved with making defensive line decisions.
It's impossible to say whether keeping Wilkerson at left end and having Crowder at right end for that game would have changed anything, but I have a strong suspicion that they both would have been more productive.
What I do know for sure is that for the Bucs'defense to play better this year, we are going to have to have a better, more consistent pass rush from our defensive line, especially our defensive ends.
My personal belief is that we can help ourselves with that, if we put guys in the best position for them to be productive, and that means leaving them on one side and letting them do their thing.
Again, this is just one man's opinion, but I think it has some merit. I keep going back to that list of the all time leaders in sacks and trying to find one true defensive end who put their hand on the ground every play that flipped sides and I just don't see one. But still, I could be wrong and just slow to catch on to the new trend.
What say you?