Pat Kirwan, The Bucs And The Draft
March 5th, 2010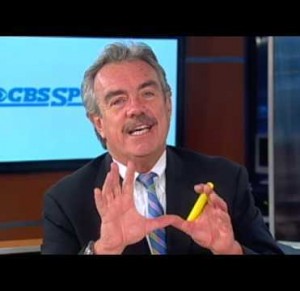 Joe is one to listen to local radio in the late afternoon each weekday. It's appointment listening for Joe.
Sadly, there was golf chatter Thursday, specifically about this arrogant, obnoxious serial adulterer Eldrick Woods. The only thing to chase Joe away quicker than Rachel Watson calling his name would be non-basketball association talk or golf talk.
So Joe turned to old reliable: Sirius NFL Radio. No golf talk there. Nary a mention of the arrogant, obnoxious serial adulterer Eldrick Woods. Not a word about the non-basketball association either.
In other words, a safe haven for Joe.
Joe tuned in just in time to hear former NFL front office executive and overall NFL guru Pat Kirwan, co-hosting "Movin' the Chains" with Tim Ryan, dish some juicy nuggets about the Bucs and the draft.
In short, what the Bucs do depends on the Rams. Oh, and you can pretty much forget Dez Bryant coming to Tampa Bay.
Kirwan suggested the Rams hold the key to the Bucs' draft, no breaking news there. If the Rams draft manbeast Ndamukong Suh or Gerald McCoy, this may play into the Bucs hands Kirwan thought.
If the Rams and Lions draft Suh/McCoy, "the best thing that happens to Tampa is now you can sell that spot," Kirwan said. "You know you have a couple of teams looking for a quarterback."
Before scoffing, consider Kirwan's background. Kirwan is very good friends with both Seattle coach Pete Carroll and Washington general manager Bruce Almighty, so think about that and perhaps who is feeding Kirwan this information.
Bruce Almighty is one of Kirwan's golfing buddies and Joe believes it's safe to assume the two may have had a cocktail or two at some point in Indianapolis. Carroll, who goes way back with Kirwan, tried to hire Kirwan to work in the Seahawks front office just a few weeks ago.
If both Suh and McCoy are off the board when the Bucs are on the clock, Kirwan believes this will start a bidding war between Washington and Seattle which, Kirwan said, both teams covet Oklahoma quarterback Sam Bradford. Kirwan said he'd lay his chips on Seattle pushing the panic button and trading with the Bucs
"I can see Seattle trumping Washington and moving up. Then [the Bucs] are in good shape."
Now, who do the Bucs draft? Ryan thought, perhaps, Bryant. Kirwan, who was working his vast network of contacts with scouts, coaches and front office types while at the combine, pretty much put to rest any thoughts of Bryant coming to Tampa Bay.
"I am staying clear of Dez Bryant, I really am," Kirwan said. "I wouldn't take him in the first round. The NFL is a world of survival. You have to have the fire. You have to have health and you have to have the production. I don't see it in this guy. I know his talent is top 10. But most teams are not going to take chances any more."
Kirwan noted the many NFL people he has talked to are telling him Bryant's stock is dropping rapidly due to the many red flags he brings to the table.
"I've talked to scouts and asked them, 'What do you think about Dez Bryant?' And they all gasp. They're staying away."
Rather than Bryant, Kirwan said Bucs fans would be wise to keep their eyes on Golden Tate — possibly in the first round if the Bucs trade down — Illinois' Arrelious Benn in the second round (who Kirwan said is a borderline first round pick), and a sleeper Kirwan said NFL insiders are giddy about, Georgia Tech's Demaryius Thomas.
"Teams are all wanting him," Kirwan said of Thomas. "I was with a scout [at the combine] who was watching [Thomas closely] and he told me that [Thomas] might be better than Calvin Johnson. I told him, 'You are out of your mind!' He then tells me, 'I really think he may be better than Calvin Johnson.'
"When you see a guy who averaged 19.5 yards a catch in college [for the last three years; the past two] in an offense that does not promote the passing game, that is an exciting prospect.
"I like this Thomas kid. Too many people told me they like him" to believe he will slip past the second round.
A caller then asked Kirwan about Stanford fullback and Heisman Trophy finalist Toby Gerhart, perhaps in the third round to finally replace Mike Alstott as a true fullback. Kirwan liked the move but bristled at the caller's suggestion that Gerhart would be an Alstott clone.
"It's time we all stop calling Toby Gerhart a fullback. He's a running back and a damned good one."
Ryan agreed saying, "This guy is a much better athlete than Mike Alstott. He has visited the end zone 43 times as a marked man."