Jaime Hanna (Really) Likes The Rays
March 26th, 2010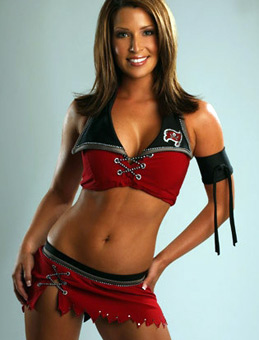 It's a slow Friday. But this got Joe, um, well, perked up.
When the Rays made it to the World Series two years ago, Joe learned that Rays slugger Evan Longoria was hooking up with the lovely Bucs cheerleader Jaime Hanna.
Seems as though Ms. Hanna has moved down the dugout for another Rays player.
Hyped Rays minor league outfielder Matt Joyce seems to be scoring major league talent. Though Joyce may be on the disabled list, he has found a way to comfort his ailing arm. If burgeoning Internet rumors are accurate, Hanna can be found on Joyce's (sore?) arm.
Per the Twitter feed of Joe's good friend Cork Gaines, he of the must-read Rays blog RaysIndex.com, Hanna and Joyce are an item.
@RaysIndex: Rumor that EvanLongoria's ex-BucsCheerleaderHookup JaimeHanna has been seen w/ MattJoyce. SloppySeconds or clubhouse comraderie?
Now, if Joe was really a cheap writer, he'd have all sorts of double entendres about wood and balls, but Joe's not going to go there.
Joe reached out to Cork for further juicy details. Cork replied that he is putting out "feelers" for Jaime to confirm if the rumors are accurate. He cannot confirm but, Cork said he's heard this rumor from too many sources to believe on face value they are false rumors.
The fact Jaime may have lost to Rachel Watson in the Eyecandy Region final of Buccaneers Madness certainly hasn't crushed her.
Or was result the opening that Joyce needed in Jaime's time of need?
Sigh.
When it comes to Bucs cheerleaders sacking up with local athletes, Joe doesn't mind rumormongering. Besides, it gives Joe a chance to post a photo of a lovely Bucs cheerleader which always brightens up a page.