The Bucs Are Trying To Trade Down, Not Up
February 23rd, 2010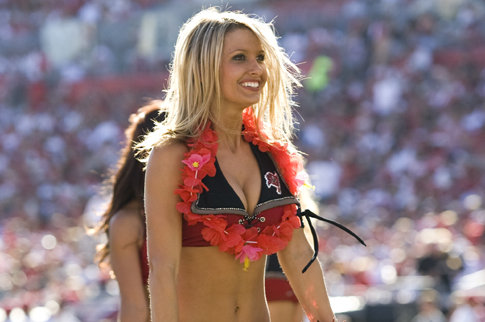 Forget manbeast Ndamukong Suh or his fellow defensive tackle Gerald McCoy.
Rather, the Bucs may be settling for Dez Bryant or Eric Berry.
That is if they even have a first round pick.
It must be the NFL offseason because it's the NFL rumor season, as the innuendos are flying faster than texts to an available Rachel Watson.
Over the weekend, Joe read the Bucs were trying to obtain the Rams' pick, the first overall in the draft.
Now Joe has learned from BSPN NFL honcho Adam Schefter that instead, the Bucs are trying to trade down.
Twittering as he is wont to do, Schefter — in his 140-character limit, offers words that the Bucs are trying to unload the third overall pick in the draft. He then backed up his findings in a small article on BSPN.com.
Each of the teams picking in the top four come late April — St. Louis, Detroit, Tampa Bay and Washington — has discussed trading its pick and moving out of its spot, multiple NFL sources said Tuesday.
Joe knows the Bucs need all sorts of help so trading down, if a suitor can be found, is actually not a dumb move by Bucs general manager Mark Dominik. What Joe would like to know is, what is spooking Dominik and the rest of the general managers. Sure, Joe knows money is behind this.
This just reinforces to Joe that NFL teams are preparing to go to the mattresses for a labor stoppage of some sort for the 2011 season — if there is a 2011 season.