Pete Mangurian Returns, But For How Long?
February 12th, 2010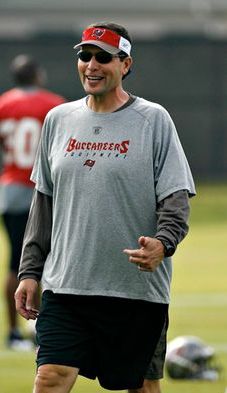 Prior to the start of last season, Joe was excited.
No, it's not that Joe was dreaming of Rachel Watson, but Joe thought the Bucs were on the cusp of having a dominant offensive line.
That didn't happen for a variety of reasons. One was that Aaron Sears was playing hide-and-seek. Another was that Jeremy Zuttah was dinged up. A third, and more likely the problem, was the Bucs and offensive line coach Pete Mangurian were trying to install a zone blocking technique.
Granted, such a complex style of blocking, especially if a line is not used to it, takes time to master. So that could be one reason the Bucs surprisingly struggled up front.
The Bucs offensive line played so subpar that Joe thought Mangurian might just be toast after the season. Apparently, that is not the case. eye-RAH! Kaufman of the Tampa Tribune, via TBO.com's Bucs Twitter feed, noted that not only is Mangurian returning for the 2010 season, but he is on thin ice.
It appears OL coach Pete Mangurian will be returning to his post for the Bucs in 2010. His first year on the job was shaky at best.
Let's be honest here: The entire coaching staff is on thin ice. Raheem the Dream's entire crew has but one season left on their contracts. The only way Mangurian survives if the team sucks and Raheem the Dream is launched is if the Bucs offensive line returns to its old self and is dominant.