Jim Caldwell Not Afraid Of Dungyphiles
February 4th, 2010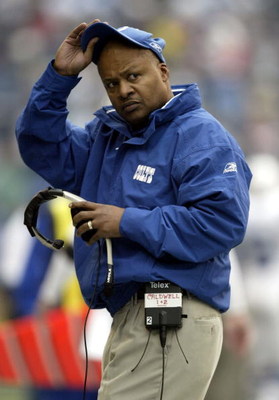 MIAMI GARDENS, Fla. — The Dungyphiles drive Joe nuts.
The way some of the Dungyphiles talk about Father Dungy, it makes Joe think he needs to fall to his knees, make the sign of the cross and recite the Act of Contrition.
The thing that irritates Joe the most about the Dungyphiles is that they give Chucky zero credit for winning the Super Bowl with the Bucs. None!
They parrot that nonsensical cliche that Chucky "won with Dungy's players" yet cannot recite the starting lineup for the Bucs in that magical Super Bowl winning season, specifically, the Dungyphiles cannot name the six new offensive starters for the Bucs that season who weren't on the roster when Father Dungy was coach.
So when Jim Caldwell guided the Colts to the Super Bowl in the first season after Father Dungy left (sound familiar?), Joe was wondering when he would first hear someone babble, "Caldwell won with Dungy's players."
Though the Dungyphiles totally disrespect Chucky — even though players like Warren Sapp and John Lynch have long admitted Chucky is just what the Bucs needed to get to the Super Bowl, Caldwell is almost embracing them.
Speaking at Super Bowl media day, Caldwell said he believes he is coaching Dungy's team and it would not be an insult to him if people thought the Colts were Father Dungy's team.
"No sir," Caldwell told Joe, because that notion"would be exactly right. [Father Dungy] is still a part of this program. He helped put this team together. His thumbprints are still here. While there were others that helped" mold the squad, men " like Bill Polian and our owner Jim Irsay helped put this whole thing together. The players, certainly, can gleam from the fact they all played" for Father Dungy.