Earnest Graham Wants The Ball
February 5th, 2010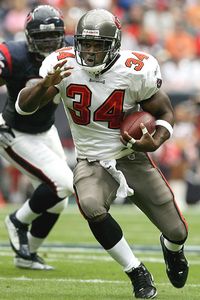 You remember Earnest Graham. He's the punishing runner the Bucs pay a few million smackers a year to play special teams, part-time fullback and take a carry every other game.
He finished 2009 with 14 carries and 14 receptions in 13 games.
He wants the ball.
Now, of course, Graham didn't pull a Keyshawn Johnson and say, 'Gimme the damn ball.' But for the soft-spoken, team-first Graham, coming on the Ron and Ian Show on 620 WDAE-AM and saying he wants more carries is a lot for him.
Former Bucs lineman and co-host Ian Beckles asked Graham if he "ever questions any of the [Bucs] coaches" about his lack of carries.
"At some point I would like to be able to run the ball, because I can and I've done it a high level," Graham said. "I'd like to have a bigger role running the ball because I'm capable. ..I've never asked why. …I'm not here to question what you're doing as a head coach. I'm here to make the coach's job easier."
Graham talked about the painful Bucs 2009 campaign and how it was so disappointing since the team was so confident entering the season.
After the final game, Graham said "Raheem was definitely confident. He and the players were more satisfied with the way we ended the season. …His focus was on the offseason and everybody being there for OTAs. …So it's really on us as players to get ourselves in the building to fix what we did last year."
As Joe has written before, Graham is a weapon the Bucs couldn't find a way to use. That has to change.
In case you forgot what Graham looks like on the field …