The Best Outside Linebacker: Derrick Brooks
January 15th, 2010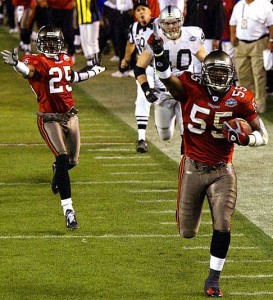 The national newspaper also known as McPaper in some circles, USA Today, recently put together what so many papers and publications did in recent weeks and that was have a look back at the past decade.
The McPaper decided to compile an All-Decade NFL team and selected Derrick Brooks as the outside linebacker of the first decade of the 21st Century.
But here's something Joe didn't know: Brooks damned near became a Minnesota Vikings star.
When Brooks was drafted by the Bucs, many Dungyphiles seem to forget Father Dungy was not with the Bucs, he was with Minnesota, a defensive coordinator for Fat Albert.
The Bucs had two first round draft picks that year and Father Dungy claims the Vikings were ready to pull the trigger on Brooks when Richie McKay and Sam Wyche selected Brooks 26th overall.
Dungy envisioned all of this for his Cover 2 schemes when Brooks came out of Florida State as one of the top linebackers in the 1995 NFL draft.

One problem: The Tampa Bay Buccaneers snagged Brooks with the 28th pick in the first round, following their choice in the 12th slot on defensive tackle Warren Sapp.

At the time, Dungy was the defensive coordinator for the Minnesota Vikings.

"They beat us to the punch," Dungy remembers of that draft, and his disappointment that the Vikings did not land Brooks to plug into his defense.
Joe thanks his lucky stars to this day that McKay/Wyche drafted Brooks.