Joe's Second Quarter Thoughts
January 3rd, 2010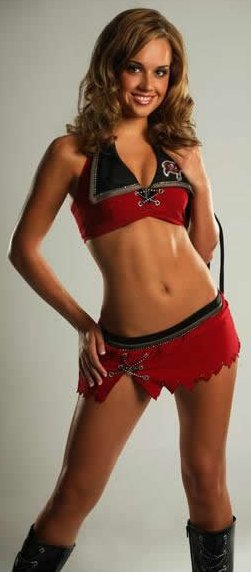 * Bucs are starting to give up some chunks of pass yards.
* Ronde Barber does not age.
* Nice sack by the Bucs. Geno Hayes and Ronde Barber.
* Ronde Barber with a great open field tackle to force a field goal attempt.
* Bucs get to the ball back. Sweet!
* How can you whiff on Matt Ryan like that??? Wow Tanard Jackson will never live that down. Questionable hold on Ronde.
* Bucs defense is getting soft here.
* Tanard Jackson with a sweet play to save a touchdown that Joe thought was going to get flagged.
* Oh, no. Someone has the gall to to wear a Snuggie to a Bucs game.
* Three and out deep in your end late in the first half is not good.
* Dave Moore on the Bucs radio network said the Bucs offensive line is not getting any push at all against the Falcons front line.
* Wow, Quincy Black, the CITS isn't The Venue and the field of the CITS is not a dance floor.
* Unless the Bucs make a big play, the Falcons will take the lead in the final two minutes. Darn.
* Wow. What a catch by Tony Gonzalez and what a pass by Matt Ryan. That was damned good coverage by the Bucs and somehow the pass was completed.
* Dave Moore said the Bucs defense is getting worn down. Come on, it's the second quarter and it's cold. Geez.
* SABBY THE GOAT!!!! Joe just might buy season tickets next year IF Sabby the Goat is cut. Worthless SOB. Oh, but he's white so he is the next John Lynch. Give Joe a friggin' break!
* Bucs manned up on first and goal.
* Bucs manned up on second and goal. Way to go Roy Miller. What a hit!
* Bucs did their best there. Joe saw Sabby the Goat wave his arms in disgust right after the touchdown. Joe threw a Caybrew bottle at his TV in disgust of Sabby the Goat.