Joe's First Quarter Thoughts
January 3rd, 2010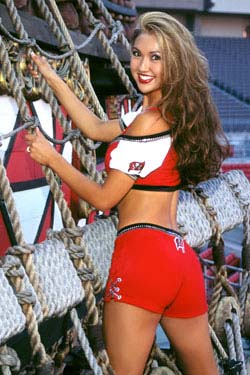 * Now that's the way to start the game: Kareem Huggins with a fumble recovery on the opening kickoff. Geno Hayes clobbered the return man for a fumble.
* Don't give up on the run Greg Olson. Keep it up, despite the occassional loss.
* Uh, oh. Third and long. And we all know how well Freeman throws on his first attempt of each game (interception).
* Hey, if this were old time baseball and you could one-hop the ball, then that was a good pass. But we are in the 21st Century so that was a horribly thrown pass.
* Well, at least the Bucs got some points off of that turnover. Bucs up by three.
* If the CITS is empty as Joe's good friend Justin Pawlowski claims, on the Bucs radio network the crowd sounds, as Al Michaels would say, "full throat."
* Beautiful. The Falcons get called for a penalty on a good pass play. Terrible start by the Dixie Chicks which brings a smile to Joe's face.
* Sabby the Goat got away with a late hit right in front of the referee. Dumbass.
* Sweet tackle by Geno Hayes which saved a first down. Sure, Geno was dragged down but Hayes got the tackle shot of a first down which is what counts. Bucs ball. Good field position too.
* Not an impressive drive thus far by the Bucs.
* Gene Deckerhoff must be freezing. Given the fact he lives in Tallahassee and is freezing, then it must be cold at the CITS.
* Winslow may have a first down. Nice job by Winslow. Good roll out by Freeman.
* The Dixie Chicks are really keying on Caddy.
* Freeman really, really needs to work on his accuracy in the offseason. He damned near threw an interception by mistaking Antonio Bryant for Manute Bol.
* Falcons just gouged the Bucs defense up the middle for damned near a first down and then Norwood gets a first down on basically the same play.
* Good pressure by Syles G. White to force a bad pass by Ryan.
* Good pressure on Matt Ryan and good coverage by Aqib Talib results in a punt. Nice job Bucs defense.
* Bryant was open but no time to throw from Freeman. Then Wiinslow drops a catchable ball.
* Caddy with a nice run but not enough for a first down.
* Defense stands tall for the Bucs again and Caddy is starting to get warmed up.
* Freeman with the escapability to save a sack.
* Wide open to Caddy but too much green to make up.
* Will someone tell Sabby the Goat to watch the ball. Please?