Help Wanted
January 8th, 2010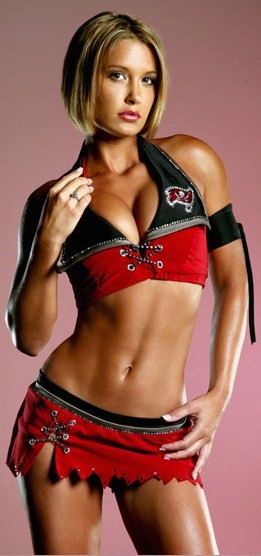 Like women?
Like football?
Then Joe has a job for you. Actually, it's a job for Joe, but that's another story.
Seems as though Bucs cheerleader manager Sandy Charboneau has moved on to bigger and better things, if there is such a thing. It appears the Bucs need someone to manager the cheerleaders.
A loyal JoeBucsFan.com reader sent along to Joe a job listing for some lucky person to handle the Bucs cheerleaders. Among the many responsibilities listed in the job opening is the following that caught Joe's eye:
Coordinate and produce annual Swimsuit Calendar; including shoot location, staffing, swimsuit selection, shoot scheduling, production, marketing and sales initiatives.
Ah, Joe's mind races. Swimsuit selection. (Sigh).
If Joe was somehow fortunate to land such a position, the first thing he would do is to see just what it would take to lure Rachel Watson back.