A Playoff Game For Falcons
January 2nd, 2010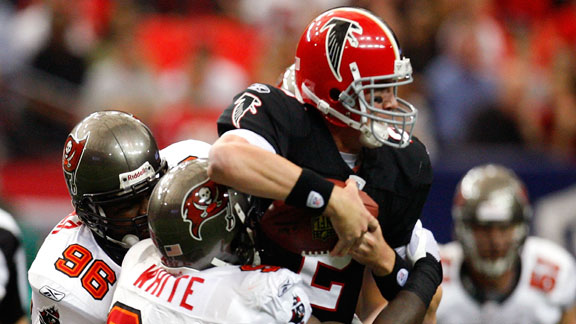 Pat "Vacation Man" Yasinskas, the resident NFC South writer for BSPN.com, is quite well plugged in with the Falcons. Vacation Man spent an awful lot of time with Atlanta this preseason when the consensus was the Falcons were the class of the division.
Of course, being a shameless BSPN front-runner, VacationMan later moved on to spend most of his time with the Saints. Lately, he's been back on the Falcons bandwagon, as they now sit 8-7 with a two-game winning streak and Matt Ryan healthy.
Vacation Man believes the Falcons will give 110 percent to beat the Bucs on Sunday.
Speaking of the Falcons, this thing about possibly having back-to-back winning seasons for the first time in franchise history means a lot more than you would think. Everyone in Flowery Branch, Ga. (and I'm talking all the way up to the highest level of the organization) is aware of this little statistic. The Falcons aren't going to the playoffs, but they're going to treat the game against the Buccaneers just like a playoff game.
Joe is ecstatic to learn the Falcons will treat Sunday like a playoff game. The Bucs need to see how far this team has progressed, and what better way than against a motivated division rival.
A bad beating at home will send earth-shaking ripples through One Buc Palace.