Don't Look For Graham To Run Much
November 25th, 2009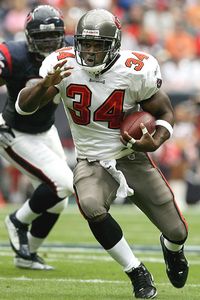 Sharp, punishing runs against the Saints (three carries for 31 yards) will not catapult Earnest Graham into becoming a primary option in the Bucs running game on Sunday in Atlanta. 
Graham was asked last night in an interview on 1010 AM whether he might log more carries against the Falcons, and Graham quickly dismissed the thought. "I wouldn't dare say that. no. I don't know," he said.
Graham went on to explain that he's the starting fullback and midseason signee Chris Pressley, an undrafted rookie fullback off the Bengals practice squad, just isn't ready to fill that role.
There have been a long list of surprises with the Bucs this season. Graham having just 11 carries entering the Bucs 11th game certainly is one of them.