Talib Blows Curfew, Curses Out Raheem
October 31st, 2009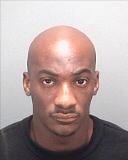 The dean of Tampa Bay sports radio, Steve Duemig, broke a story on 620 WDAE-AM yesterday about Aqib Talib and other Bucs significantly blowing curfew in London.
The result wasn't pretty.
After the Bucs' loss to New England, per Duemig citing an eyewitness, the curfew violators were confronted in the hotel lobby by a waiting Raheem The Dream and numerous F-bombs were fired from Talib's mouth to Raheem The Dream's ears.
Joe must note that the Bucs have not denied the report, and Joel Glazer has not issued a scathing response.
It happened.
Surely, Talib will be fined yet again. Whether it be paying fat hourly wages to defense attorneys, numerous team fines, bar tabs for Torrie Cox, and no doubt soon a civil suit payoff to a cab driver, Talib is a walking ATM these days.
What concerns Joe must is the lack of internal leadership within the Bucs locker room. What has multiple players thinking it's OK to be 0-7 and bust curfew?
Does this happen if Derrick Brooks is on the team?
It was Raheem The Dream who labeled Talib "wild child" after he got in trouble shortly after being drafted by the Bucs in 2008.
It's time for Raheem The Dream to drop some serious discipline on his bad apple before he spoils the whole young bunch.