Stovall Returning Home
October 7th, 2009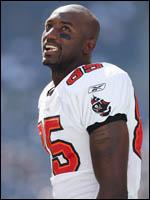 If you're into sappy, hometown-boy-returns kind of stories, Joe's got one for you about Maurice Stovall from the Philadephia Daily News.
Stovall was a Philly-area kid who hasn't played a game there since high school. Nothing too exciting in the story, other than we learn that as a kid Stovall dressed as Randall Cunningham for Halloween and, more important, Stovall is healthy as ever.
The 6-5, 220-pound Stovall just changed his approach. Instead of working on getting larger and faster, he has focused on flexibility and maintaining. He didn't want to overwork himself, just sharpen his foot quickness and hand speed.

"I relaxed, which is something rare in the offseason," he said. "I wanted to make sure my body was healthy coming into the year, and this is the healthiest I've ever been as a pro. I used to think it was one thing after another, from my rookie year, to the broken arm and the hamstring problems.
Joe is glad Stovall is geeked about returning home for a game. Given that the playoffs are just a fantasy this season, Joe prefers the Bucs throw Stovall the ball over Michael Clayton.