Stop Feeling Bad For Dungy, Rah.
October 15th, 2009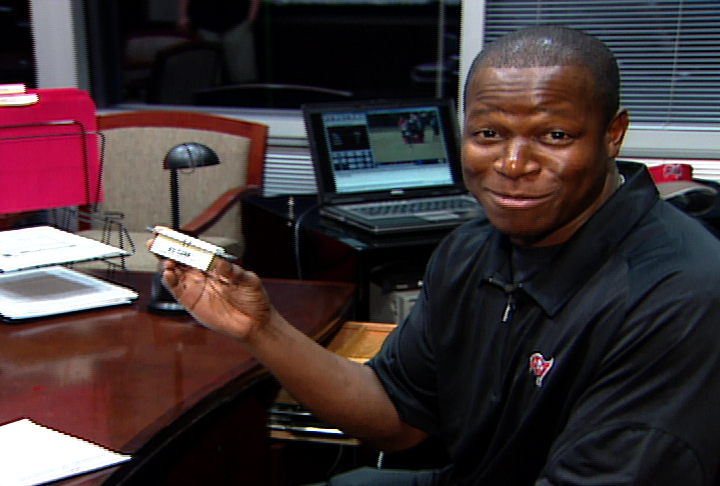 Raheem The Dream talked about Father Dungy yesterday as if the famous ex-coach is trying to sleep late and lounge at his pool but people keep bugging him.
Apparently, Raheem The Dream doesn't realize Dungy is employed by NBC on Sunday Night Football.
Joe suspects Dungy flies to New York on Saturday, watches film and has a production meeting or two. Then he spends all day Sunday watching football and preparing for the telecast. Monday is a travel day back to Tampa. Dungy has invested a lot of time keeping himself in the public eye since leaving the Colts. He's hardly trying to hole up at home.
Here are Raheem The Dream's comments, per the St. Pete Times.
(On what he would think if the Glazers thought about bringing in Tony Dungy as a consultant)
"I have no idea where that came from, to be honest with you, and the Glazers haven't approached me. I kind of feel bad for Coach Dungy because he's just at home trying to enjoy his family and kids and everybody wants to put him back to work. He's sponsoring everybody, he's mentoring Raheem, he's mentoring Mark Dominik (laughing). He's just hanging out in Tampa and enjoying his family. And if the Glazers have a conversation with Tony Dungy, then that's their prerogative. I'm excited for Tony Dungy. But I just kind of feel bad for Tony. That's just all speculation. If it has any truth to it, then so be it. My job is to try to win this week. That's my job."
To Joe, this was another great example of Raheem The Dream talking too much.
All he had to say was, "Dungy is a great football man and a friend. I haven't heard a thing about him returning to football. If the Glazers are interested in him as a consultant, then they'll let you know."
Ironic that Raheem The Dream "feels bad" for Dungy (when there's no reason to). Joe suspects Dungy feels twice as bad for Raheem and his winless record.