Raheem's Blown Call On Fourth Down
October 4th, 2009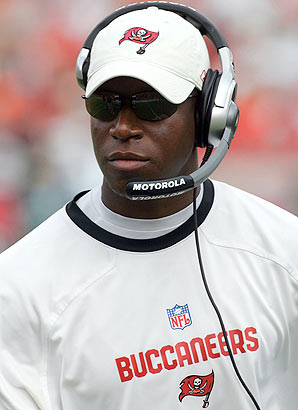 Joe thinks Raheem The Dream dropped the ball when he opted for a short field goal on 4th-and-goal from the Redskins' 3 yard line with about 4:30 remaining. The Bucs made the kick and pulled to within three points, 16-13.
Why not go for the win right there? There was nothing to freaking lose! You were sitting at 0-3 on the road. Go for the win.
There was no reason to put the game in the hands of your defense– the Bucs defense — which hadn't stopped Washington consistently in the second half. Secondly, Josh Johnson wasn't moving the ball down field at all. Add to that Mike Nugent is very unreliable.
Raheem The Dream blew it.
Worst case, you miss the fourt-down attempt. Then Washington is pinned back near its end zone and you've got a better chance of stopping them and getting back good field position.
Best case, you win the damn game.