Mike Nugent Kicked Off The Bucs Roster
October 5th, 2009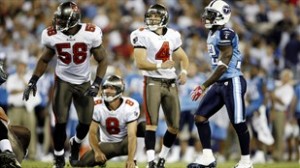 Don't let the door hit you on the way out.
Mike Nugent, the former horrendous Bucs kicked, was given the boot tonight by Raheem the Dream and Mark Dominik, so says Joe's good friend, "The Big Dog," Steve Duemig.
Per Mike Florio, the curator, creator and overall guru of ProFootballTalk.com, Nugent gets to keep his base salary of $2 million.
Must be real nice to suck at your job, keep it for, what, three months, and then get to sit on our ass for the next nine months collecting $2 million.
Though the Bucs have not replaced Nugent yet, immortals Brandon Coutu and Shane Andrus were at One Buc Palace today trying out for the opening.
Joe trusts Dominik won't drop $2 million on either one.
There's a reason why Raheem the Dream scoffed openly when he was asked about Nugent.