Mark Dominik, Doug Williams Clashing
October 18th, 2009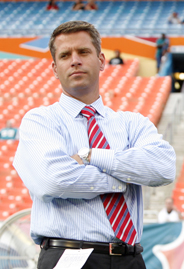 It's bad enough that the Bucs are struggling on the field. So this little tidbit is depressing Joe.
Seems as if Bucs general manager Mark Domink and director of pro player personnel Doug Williams don't always see eye-to-eye. That's the news that Michael Lombardi of the NationalFootballPost.com reports.
I'm hearing from my NFL sources that the Bucs' front office is a house divided, which usually happens when a team takes the committee approach. Mark Dominik, the current general manager, and Doug Williams, the pro personnel director, don't always agree on things, and there seems to be some dysfunction going on inside the organization.
Maybe Joe is reading this nugget through rose-colored glasses because he likes both men. But Joe thinks that it may actually be healthy if there is some disagreement among front office types. Otherwise, you have a bunch of yes men.
If underlings just nod their heads and smile at what the boss thinks, you have the Oakland Raiders.
Wait a minute. The Raiders have a better record than the Bucs.