Get Ready For The Secondary Spin
October 11th, 2009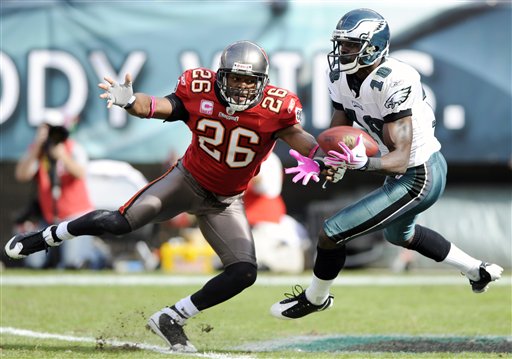 Enough already.
Somebody needs to come out and say the Bucs' secondary stinks. Let Joe be the first. Now Joe's talking about the unit as a whole.
The excuses seemed to finally be all gone against Philadelphia. Tanard Jackson was back. Aqib Talib and Ronde Barber were coming off strong games, and Sabby Piscatelli had settled down after a horrific start to the season. The Bucs' defense was even playing better as a whole.
But all that didn't mean crap. The Eagles immediately went after Elbert Mack for a 51-yard touchdown to Jeremy Maclin, and came back again to Maclin who caught Will Allen with his pants down for a 40-yard TD. And Joe can't remember any big hits by the secondary today.
Every week it's a big play or two, or three.
Joe's going to cover his ears when Raheem The Dream and Jim Bates talk about the secondary this week. There's really not much to say, other than these guys aren't very good right now.