Bucs Problems Too Many To Count
October 5th, 2009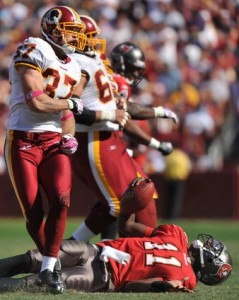 While there were a lot of positives to take away from yesterday's loss to the Redskins, let's face it: The Bucs lost. No way to sugarcoat it.
Joe places a lot of blame on slug kicker Mike Nugent. Ted Nugent would do just as well.
But as Matt Williamson of Scouts Inc., via BSPN.com points out, the Bucs have a lot more problems than just Nugent.
The defense held Campbell to only 60 passing yards in the first half. It would be great to give the Bucs' defense the majority of credit for those paltry results, but the fact is that Campbell played horribly and forced the ball into coverage. He did make a few big throws, but for the most part, his play was inexcusable.
Generally, if you jump out to a 10-0 lead and force the opposition to commit four turnovers and hold that team's best running back to 60 yards, that should be the ballgame.
Unless you suck.