Bucs New Kicker Somewhat New To Kicking
October 6th, 2009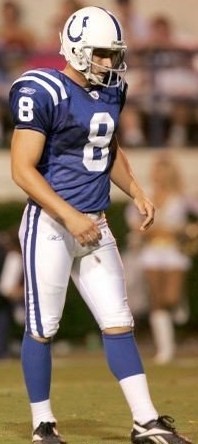 So the Bucs signed someone named Shane Andrus to replace Mike Nugent who was largely responsible for the Bucs loss to the Redskins. Word is he went home to take a shower, fell in the bathtub but remainded dry as toast.
So this Andrus has an interesting resume. For the past three years he's been trying to latch on with the Indianapolis Colts. Some guy by the name of Adam Vinatieri always seemed to get in Andrus' way.
Why he never hooked up with another team the past there years is beyond Joe. Andrus got all of a one-day tryout with the Bucs which is just a shade less than Nugent and his $2 million salary were afforded.
Woody Cummings of the Tampa Tribune documents that Andrus led the Colts in scoring this preseason and is coveted as a kickoff specialist.
Andrus entered the league as a free agent with the Indianapolis Colts in 2006. He played in one game for the Colts in 2009, handling kickoff duties in their season opener against Jacksonville.

Andrus led Indianapolis with 19 points during the 2009 preseason, connecting on 5-of-6 field goal attempts and all four PATs.
Joe has to calm himself with the fact that kickers are just about a dime a dozen. The Bucs likely could have found some kid on the soccer teams at Jesuit or Palm Harbor high schools to kick just as awfully as Nugent did.
Doesn't take a whole lot of talent to choke the way Nugent gagged this season.