Brooks Explains Why Bucs Traded Adams
October 23rd, 2009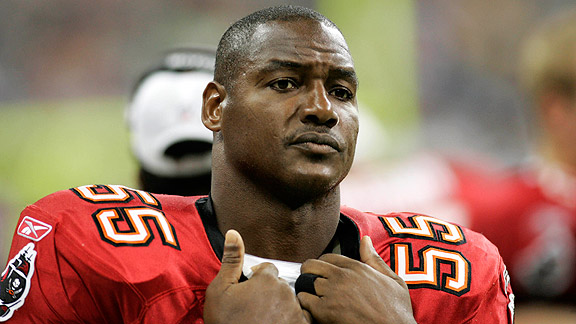 Again Friday afternoon, former Bucs great linebacker Derrick Brooks co-hosted "The Red Zone" with Ross Tucker on Sirius NFL radio.
Brooks had some great nuggets, such as how he studied the Wildcat offense run by the Dolphins and came up with tendencies both Ronnie Brown and Rick Williams display when they are in that formation.
An interesting take Brooks had on the Bucs dealt with Gaines Adams. Some NFL prognosticators and pundits (Pat Kirwan for example) have been critical of the Bucs for giving up so quick on Adams, the fourth-overall selection in the 2007 draft.
Brooks, who played with Adams for two years, explained why the Bucs gave up on Adams.
"I think there is a lot left in Gaines Adams," Brooks said. "The first thing you get is an athletic defensive end that can compliment Mark Anderson and Alex Brown and Adewale Ogunleye. I think he will help the Bears.
"Also, Gaines gets to go back to a defense that he was drafted to play in. He will be with Rod Marinelli and he runs a defense in which Adams had some success in rushing the passer as a rookie.
"Gaines, for whatever reason, can't play in the defense the Bucs are running now. He didn't deliver this year and, again, for whatever reason, [the Bucs] didn't see him being successful in the system they now run."
Now remember this is coming from Brooks. Derrick Brooks. A former teammate of Adams and arguably one of the smartest football players to ever snap on a chinstrap.
Throw in the mini-bombshell Kirwan talked about in his preview of the Patriots-Bucs game, well, Joe will let you do the math.