"We Didn't Know How Tough He Was"
September 2nd, 2009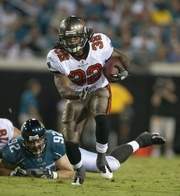 Kareem The Dream is turning heads.
That's right. Kareem The Dream, aka Bucs running back Kareem Huggins, the treasured hometown adopted son of Raheem The Dream.
Stuck at No. 5 in the Bucs running back depth chart, his work ethic, toughness and talent haven't gone unnoticed. The Daily Record of New Jersey is following their homegrown product.
"We knew he could run. We didn't know how tough he was," said Tampa Bay director of pro personnel Doug Williams of Huggins. "(Against Tennessee) he ran well. (Against Jacksonville) he came back and made some moves that we hadn't seen. He can shake and bake."
The Bucs also like Kareem The Dream's versatility.
[Earnest] Graham remembers well what fighting for a position meant and has reached out to help Huggins.

"We've all been in that position. I have been in that position before," Graham said. "He's a good back, a really good back. He has a natural feel for running the football. He can definitely play in this league."
In Joe's eyes, Kareem The Dream is at least a lock for the practice squad.
Maybe some readers will recognize the author's name?