Phillips Threw Ice, F-Bombs At Fans
September 13th, 2009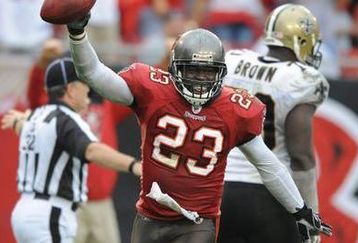 Here's the second report Joe has learned of involving safety Jermaine Phillips hurling water, among other things, at fans after the Bucs loss to Dallass.
Earlier today, Joe brought you news of this incident courtesy of Joe's friend who sat in the stadium section that was victimized by Phillips.
Now Joe has confirmation of the incident from a named source.
This second source is none other than Justin Pawlowski, a sports talk radio personality at 620 WDAE-AM, the flagship station of the Buccaneers Radio Network. 
Pawlowski reports on WDAE's website that Phillips, after hearing fans get on safety Sabby Piscitelli for his toasty play Sunday, threw a cupful of ice and "about 20 or so F-bombs" at the fans located in Section 109.
By the end of the game, the few Bucs fans who were in my sold out section (um, lots of Cowboy fans) started getting on the defensive backs. One guy was a little louder than the others. He called out Piscitelli by name and addressed the rest of the defensive backs saying, "that was the worst display of coverage I've seen by the Bucs in 20 years." I know, I thought he was being lenient too!!! I guess that comment ticked Jermaine Phillips off.

It was after said comment that Jermaine Phillips took a cup full of mainly ice with a little water, threw it in the stands, and proceeded to follow that up with about 20 or so F-Bombs. Very classy, considering the children seated in the first row. Of course, nothing was done, and Phillips was escorted by teammates to the other side of the bench to cool down. I'm sure if the average Joe Bucs Fan were to engage in such an act, he'd be explaining himself to Tampa's finest.

I'm sorry, but this is inexcusable. For a team that is trying to win over it's fans by being so "fan friendly", this is a disgrace. You obviously aren't going to win the fans over by winning or playing well this season, the least you can do is refrain from throwing things into the stands and refrain from using F-Bombs. As a matter of fact, if you want to be mad at anyone, Jermaine, you should focus on your own organization.
Pawlowski goes on to unload on Phillips and the Bucs management for lack of funding on players. Pawlowski also points out had any Bucs fan (or one of the many Cowboys fans at the CITS) pulled a stunt like Phillips did, they'd be locked up at this very moment.
Phillips sentence? Justin is still waiting.
In the meantime when Bucs management is all but begging fans to come to games, Justin — and so too, Joe — wonders how management will explain this very fan unfriendly incident?