Mysterious Bucs Make Wade Phillips Laugh
September 8th, 2009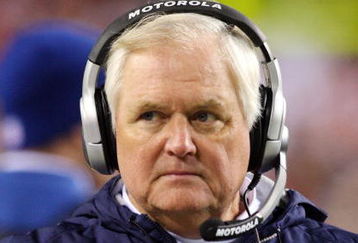 Dallas Cowboys head coach Wade Phillips is a pretty boring, low-key speaker. He's no Raheem The Dream.
But one thing did make him laugh at his Monday news conference, archived on the Cowboys' Web site. Phillips smiled when talking about how little he's seen of the Bucs' first-unit offense on film.
"Basically the tight end and the two wide receivers (chuckle) haven't played very much. All those guys are top players," Phillips said.  …They could come out wingin it and they've got good people to throw it, too.
"Overall they're a West Coast offense. …Some of the things are similar to what they did last year."
Phillips goes on talk about how the Bucs still have "a lot of short, quick routes" in their offense and he praised Byron Leftwich for his defensive reads pre-snap (exactly what Bucs announcer Dave Moore said Josh Freeman is struggling with).
Joe's glad the Bucs have shown little of the A-Team passing game on film.
That can't hurt, especially when Joe expects Antonio Bryant comes out playing angry with a massive chip on his shoulder and ready to put the Bucs on his back in a contract year. (Joe can dream, can't he?)