Josh Johnson For Quarterback
September 27th, 2009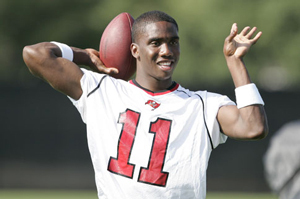 It's going to be very hard for Joe to make a good case against Josh Johnson getting a chance to start a game for the Bucs soon.
Maybe it's next week in Washington? But it's got to be before Josh Freeman is handed the ball to try and launch a new era from what appears to be rock bottom.
At 0-3, and getting worse every week, the Bucs are as good as done before Week 4. At this point, Byron Leftwich deserves a firm handshake, a well-written Thank You note and fancy seat on the bench. His work is done.
Johnson, finally playing in something outside a preseason game, was competent, dangerous and gave the team a spark in the fourth quarter against a Giants team that was gunning for the shutout. Johnson picked up blitzes, hung in the pocket and moved well.
Poor kid would have had a touchdown if Michael Clayton knew how to catch the ball.
But that drop was no surprise other than to Raheem The Dream and Mark Dominik: perhaps the only two guys on planet earth who believe Clayton deserves elite receiver money in the NFL.
Somewhere Chucky is stroking patting himself on the back for drafting Josh Johnson, who allegedly was blossoming in Chucky's laboratory.