"It's Already Out Of Hand"
September 21st, 2009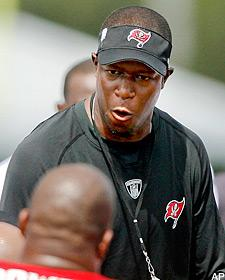 Joe gives Raheem The Dream credit for not spinning at his Monday news conference at One Buc Palace.
Asked how the Bucs can keep their defensive woes from getting out hand, Raheem The Dream replied, "It's already out of hand."
The head coach also called out the defensive line for not being up to the challenge he issued to them prior to the Bills game, and he pointed a finger of blame directly at Gaines Adams. The Dream acknowledged, as Joe wrote earlier, that the Bills' offensive line was practically comprised of three rookies for much of the game.
Raheem The Dream went on to explain his team's confidence level is extremely high.
Joe supposes the undefeated Giants are riding a confidence high of their own coming into Sunday's Bucs-Giants game in Tampa.