Halftime Thoughts
September 4th, 2009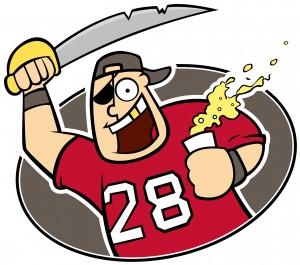 Joe's going to preface this by saying it's Game 4 of the NFL preseason. It's the usual hodgepodge of reserves and don't-belongs, like Mario Urrutia, running around pretending to be top-flight players.
*Get Clifton Smith off the field. He's first class. He's a Pro Bowl returner. The Bucs don't need him injured.
*Josh Freeman is what he is: raw, talented, mobile, eager, mistake-prone, exciting, and just not ready to take on the Cowboys' first team defense. Two interceptions, the second one quite ugly. Beyond that, he looked like the victim of some largely poor receiving, save Brian Clark's circus catch.
*Bucs starting defense played one series and Sabby Piscitelli's punishing hit forced a fumble recovery for Ronde Barber. Great confidence boost for the starters.
*Kyle Moore and Stylez White had excellent success. But again, White is a starter quality, so he should eat up the scrubs. Moore looks like a very versatile find as a fourth-rounder.
*Clark did redeem himself with that one-hand grab off a deflection. His poor route-running likely caused Freeman's first pick, and he was called for holding on a kickoff return, a major no-no.
*Rex Grossman!!! He looked way too good out there, possibly better than Luke McCown and Byron Leftwich. You could say he was playing against our UPS drivers. But it was Tanard Jackson who was beat on the 87-yard touchdown, which went 55 yards in the air.
*Rookie fifth-rounder Xavier Fulton went down very hard. No word on the injury.
*Jameel Cook will be cut.
*They should find a place for safety Steve Cargile. But there may not be one. Although if Raheem The Dream is committed to keeping the best 53 players …
*Kareem Huggins hasn't played. Are Bucs hiding him in hopes he clears waivers and they can put him on the practice squad?