Torrie Cox Goes Talib
August 2nd, 2009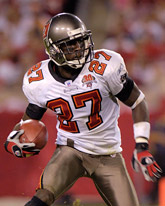 Everyone hoped Aqib Talib would learn his lesson after swinging his helmet in Spring practice and pummeling cornerback Torrie Cox in the face.
However, it seems Cox may be the only one who learned a lesson. Cox likely made Talib proud on Sunday in one of the more ironic moments from the sweltering afternoon practice at One Buc Place.
In a moment of internal rage after being burned on the field, Cox ripped the helmet off his head and slammed it into the ground. The bouncing helmet found its way to a cameraman's leg along the sideline.
No blood. No foul. Thankfully.
The incident came after Cox had tight coverage on wide receiver Kelly Campbell but Luke McCown's 35-yard throw found Campbell in the back corner of the end zone. The play drew major celebration from the typically reserved McCown. Cox marched in a huff for about 10 yards after the play and then went Talib with the helmet.
Now Joe finally understands why Cox didn't have a fit when he was at the other end of Talib's helmet blow to the head during OTAs and needed stitches to recover; he's was a budding helmet-wielder himself.
These violent young Bucs are truly a family — learning and loving together.