Leftwich Laughs Off Overthrows
August 30th, 2009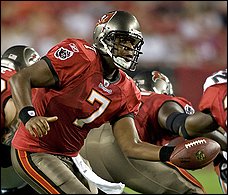 A sense of humor is a good thing.
Joe laughs all the time, in between crying inside about the Bucs quarterback situation.
Quarterbacks, especially, have to be able to laugh off a tough game and remain confident. They've got to stay focused yet loose, and shrug bad things off quickly.
Byron Leftwich seems to be that kind of guy. After being named the opening day starter, Leftwich had an exclusive video interview with Buccaneers.com. Lefty jokingly said his miscues on Thursday are nothing to worry about.
"I'm seeing the field great. And I'm getting the ball to the right guy, even when I overthrow him."