Hovan Sends A Ruud Message
August 11th, 2009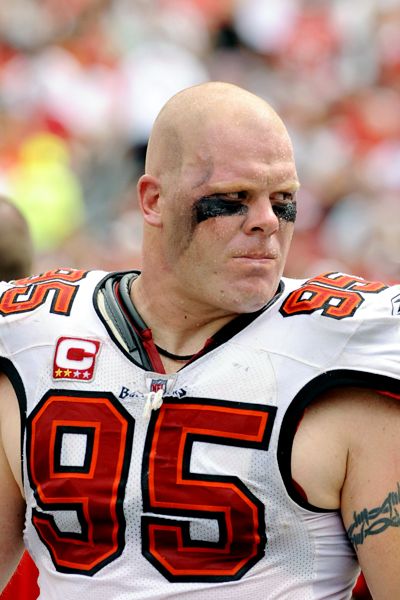 In so many words, Chris Hovan has said Barret Ruud is not qualified to be a Bucs teamwide leader.
Ouch!
That's harsh public sentiment in the second week of training camp. Hovan delivered the message to Tom Balog, Bucs beat writer for the Sarasota Herald-Tribune.
"I just think showing up for all the workouts, OTA's and mini-camps, that's how you gain leadership in this locker room, you being around," Hovan said.

"The guys see you working in the weight room, in the film room, out on the field.

"That's how you get the respect and get the leadership from your teammates."
Careful not to disrespect Derrick Brooks, Raheem The Dream says Ruud has been the leader of the defense for some time, so Raheem The Dream told the Associated Press for a new feature about Ruud.
"To be honest with you, and no disrespect to Derrick, Barrett's been the leader ever since he took over the snaps," Morris said.

"He does it all. … He's really the quarterback on defense. It's been that way the last couple of years. … If he has a bad game, the whole defense has a bad game."
Hmm. That means Ruud must have had one awful December last year.
All this macho leader crap doesn't mean much to Joe. As long as the head coach is in command and the players respect the team, then it's all good.
Play hard every snap. Win games. Then you can all be leaders.