Askew "Hard To Tackle
August 24th, 2009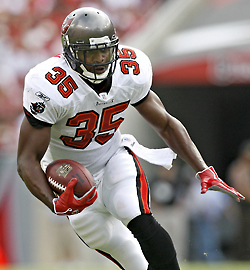 The Bucs leading rusher against Jacksonville was fullback B.J. Askew. Yes, B.J. Askew, the same guy who Chucky didn't give a carry until he played in 17 games.
Raheem The Dream said his plans for Askew always have been for the former Pro Bowl fullback to evolve into a key ball carrier. Though it's doubtful The Dream ever imagined he'd one day give Askew 14 carries for 52 yards — Askew's numbers Saturday — even in a preseason game.
"I told B. J. a long time ago. … I know about your Michigan days. I know what you can do," Raheem The Dream said. "I talked to him about possible being a short yardage back. …He accepts that role and wants to do it. …He looks like a big, heavy man that's hard to tackle. That's impressive."
Fans can check out some quality Askew highlights in the latest video from Scott Smith at Buccaneers.com.
Joe agrees with Raheem The Dream. Askew is a load, with good hands, too. The Bucs should use him a lot more than Chucky did.