Violence = Injuries
July 22nd, 2009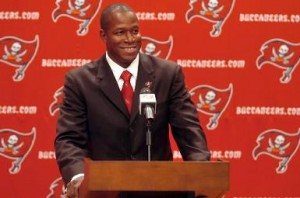 Joe is neither a soothsayer nor a genius. But one does not have to be either to know the Bucs are likely to walk out of training camp and the preseason with a solid share of injuries.
Of course, that's common in the NFL. But injuries should be even more prevalent for Tampa Bay under Raheem The Dream's new bring-on-the-violence philopsophy.
Coach wants guys fighting like animals — except those with inexplicably gift-wrapped starting jobs like Sabby Piscatelli and Jimmy Wilkerson — to earn their place.
Then compare that to Jon Gruden's preseason goal of just getting everyone with talent to opening day in one piece, and you have a 2009 Bucs team that's sure to be far more banged up before Week 1 than those under Chucky.
Joe is very interested to see whether The Dream buckles and alters his philosophy if the Bucs are taking numbers at the training room midway through the preseason.
Joe's not against a more violent, hard-driving approach. Hardly. But how The Dream may or may not adhere to his plan will be another thing to keep an eye on.
Joe's remembering how Morris stuck with his initial stated goal for the team, to "Stay the Course." That sure didn't last long.