Sears In No Mood To Talk
July 24th, 2009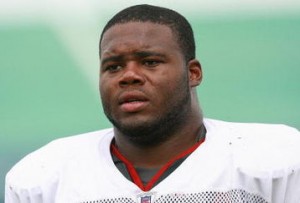 Joe applauds the St. Pete Times for spending the cash to send reporter Stephen Holder to the bowels of Alabama to sniff out the truth behind starting left guard Arron Sears' mysterious absence from the Bucs offseason.
As much as the MSM cries poverty these days, it's a miracle Bucs fans had someone travel to crack the secret that could throw a major wrench into the offensive line, the unit many believe is the Bucs' strongest on the field.
(Although don't count Mark Dominik among those who think the Bucs are strongest at O-line. Remember, Dominik thinks the Bucs are most talented and deep at linebacker.)
So Sears was seen Wednesday during Holder's trip to Alabama, apparently sitting in his car on a driveway with the window rolled up and ignoring Holder's advances.
Sears was behind the wheel. Usually one of the most polite players on the team, he declined to lower the window or even communicate with the reporter.
Training camp starts in eight days. Sears is clearly in trouble. The Bucs still haven't doled out any details. And the Bucs' depth along the O-line is in serious peril.
Joe wishes Sears well.