Raheem Exposed Bucs To Controversy
July 15th, 2009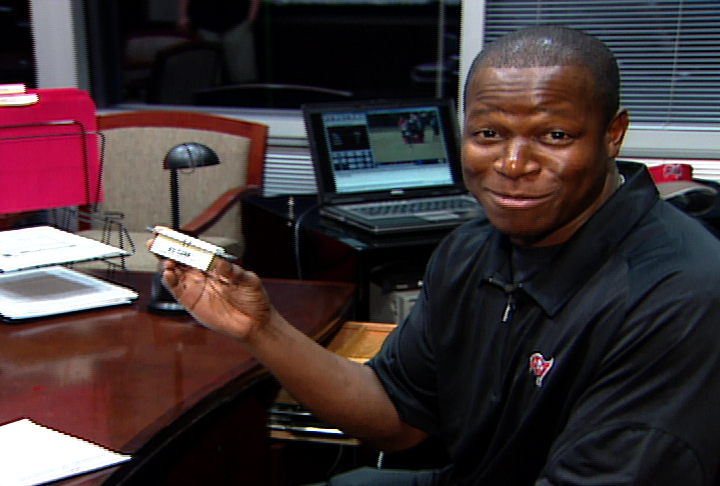 Joe briefly detailed yesterday why he thought the Bucs made a massive mistake in drafting quarterback bust-in-waiting Josh Freeman in the first round.
John Czarnecki of FoxSports.com seems to be of the same mind.  Czarnecki suggests Raheem The Dream's Viagra-like erection over Freeman has opened the Bucs up to a quarterback controversy.
Jon Gruden was one of the game's best offensive minds and his arrival in Tampa Bay gave that defensive-minded organization its lone Super Bowl victory. But Gruden could never produce a quarterback for the future and now the Bucs, led by 33-year-old rookie head coach Raheem Morris, have fostered a true quarterback controversy. Morris has embraced the entire deal, referring to it as a "national quarterback situation," knowing that TV talking heads can't get enough of what's happening in Tampa. Heck, the Bucs recently dumped Brian Griese, a Gruden favorite, in a numbers crunch.
Morris fell in love with quarterback Josh Freeman when he coached at Kansas State in 2006 and that's why he took him in the first round. Freeman was supposed to be a developmental guy this season, but he has performed so well in mini camps that the Bucs' brain trust (Morris, GM Mark Dominik and Doug Williams) want to revisit Freeman's status early in camp. Luke McCown was supposed to be the starter ($7.5 million over two years) and Byron Leftwich the backup. But everyone knows that ex-Giant Derrick Ward will be featured and new offensive coordinator Jeff Jagodzinski wants to run.

Prediction: McCown starts, but Freeman is playing by October with Kellen Winslow helping him succeed.
This would be a disaster. As Pat Kirwan of NFL.com has pointed out, the first seven games are brutal for the Bucs. Throwing Freeman to the wolves will destroy the kid.
Better to wait until November, after the bye week, that way he won't face the same division opponent twice and defenses won't bury him.