Becoming Bucs CEO On The Fly
July 30th, 2009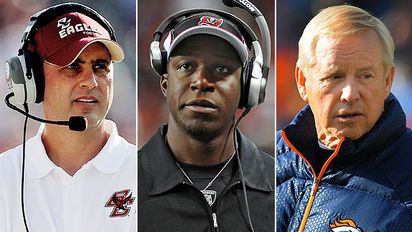 Joe is rooting hard for Raheem The Dream. If his fresh, unique approach works, there will be a lot of hard hits, unpredictable quotes and victories coming from the Bucs this year.
The speed in which The Dream can adapt, adjust and successfully apply his knowledge to the head coaching job will be critical. The Bucs can't afford to lose games early because of his inexperience.
Mike Lombardi, head bloviator at NationalFootballPost.com (even their name is long), delves into many of The Dream's challenges as a first-year head coach.
Having Jeff Jagodzinski (previously the head coach at Boston College) as his offensive coordinator along with Jim Bates, a veteran coach, as his defensive coordinator will help Morris as he learns the ropes of his new job.

This is not to imply that Morris will let either of the coaches be part-time head coaches, but rather that he can trust they will both handle their side of the ball with attention to detail. This will allow Morris to spend more time overseeing the team, making sure the team is doing the little things that are essential to winning. He must act as the CEO of the team since he hasn't had enough time to prepare for the details of the head coaching chair.
Joe would wager (a little) that The Dream is very much up to the job of leading the Bucs. However, Joe isn't sure he has the talent on defense and the quarterbak to have that translate into a winning record.