Joe At Fan Fest
June 14th, 2009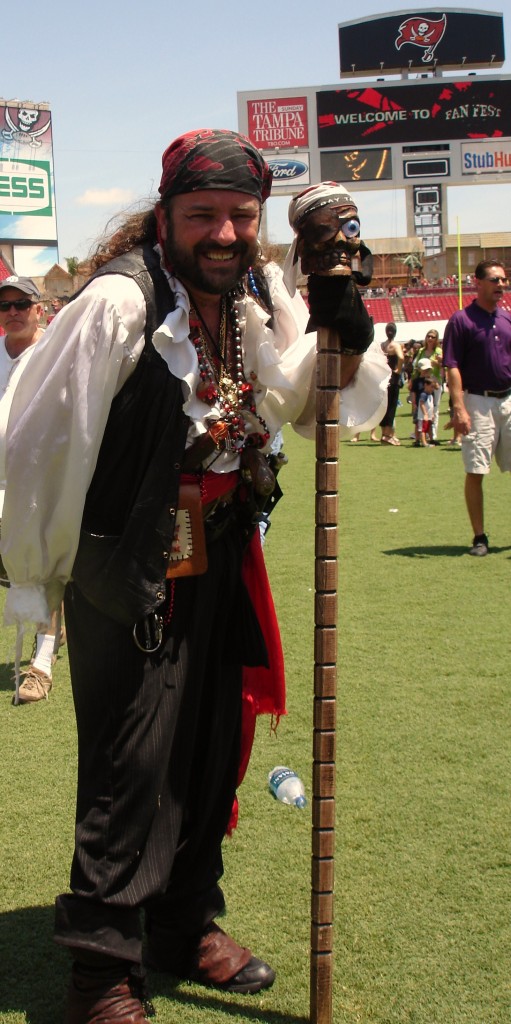 It was an interesting day for Joe at Bucs Fan Fest. First, it was hot. But Joe's not complaining. He would rather sweat than freeze any day. Plus, summer is beer drinking weather for Joe.
(Then again, when isn't it beer drinking weather for Joe?)
Lot of people there, lot of fans. For the most part, Joe was slightly bored. Joe's not an autograph guy and he hates waiting in lines. So for Joe, there wasn't a whole lot to do. But it was a football-themed day at the CITS so Joe was OK with it.
Hey, how often does Joe get to walk the same field that Derrick Brooks once prowled?
Of course, there were the cheerleaders. The new Bucs cheerleaders! But someone must have been tipped off the Bucs that Joe was coming. The girls were in a virtual fortress. Joe's been to the White House before (broke bread with The Gipper in fact) and Joe's not sure security there was much tighter.
Joe wasn't about to roast in the Florida sun for two hours waiting in line to just get a glimpse of one of the cheerleaders. Please! Of course Joe loves the ladies but he's not a complete pervert.
The girls were secluded in a dark tent. Joe tried to get some photos but there's no way they would come out unless he had a telescopic lens. Why, Joe got significantly closer to Raheem the Dream and even shook hands with Mark Dominik but Joe couldn't come within 20 yards of the cheerleaders.
Joe made an appearance with his good friend and JoeBucsFan.com draft guru Justin Pawlowski during a live broadcast of his "The Blitz," heard on WDAE-AM 620. It was just before Joe's appearance that a very awkward yet funny moment happened.
Dominik had just finished a segment with Pawlowski and was milling about. Knowing Dominik is a graduate of the University of Kansas, Joe yelled, "Hey, Jayhawk!" The remark immediately got Dominik's attention and he came over to shake Joe's hand and had a few kind words.
(For the record, Joe did not go to Kansas but Joe's first job out of college was in Kansas City.)
Seconds later, Justin had Joe put on the headphones and introduced Joe to the listening audience. When Dominik overheard Joe was on the air, let's just say Dominik was more than startled.
Dominik was in the midst of signing autographs and when he heard Joe introduced, Dominik quickly jerked his head around and stared at Joe with his piercing blue eyes.
Though Joe noticed a very slight smirk on Dominik's face, Joe just could feel the stinging sensation of Dominik's laser-like stare burning two holes in Joe's head. The last time Joe felt the heat of such a glare, Joe had offered a buxom, nubile blonde outside an upscale Georgetown nightspot to change her political views in turn for an intimate rendezvous in the wee hours of the morning.
Let's just say it was proof to Joe that Dominik reads Joe's musings. We both shared a chuckle when Joe told Justin and the WDAE listeners, "I think Mark Dominik's going to come over here and punch me."
At any rate, though Fan Fest isn't totally Joe's cup of tea, it's a good chance to mingle with other Bucs fans and talk football.
That's never a bad time and Joe thanks the Bucs for offering such an event.
Here are some photos Joe shot of the day: