Freeman Starting Week 1 "A Possibility"
June 19th, 2009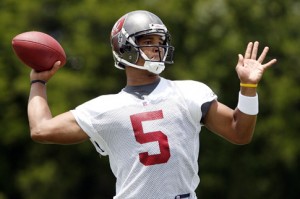 A lot of talk about the Bucs quarterbacks erupted in the minicamp this week when Raheem the Dream admitted his groom, bust-in-waiting Josh Freeman, has "accelerated" his development and is in the running to start the season.
While Joe cringes at this thought, NFL.com's Pat Kirwan does not. He suggests that recent history may favor Freeman .
Announcing a starter now may only be a half-truth, but it makes the selection process less complicated. Last year, the Ravens didn't announce Joe Flacco was their man in June. In fact, the Ravens had Flacco third on the depth chart until a series of injuries and illnesses put him on the field. Flacco started out 2-0, and I asked John Harbaugh if he was ready to announce Flacco was the No. 1 quarterback. The rookie head coach was still hesitant at that point.

Is Tampa Bay set up to be another Baltimore? Freeman sits in the third spot and rarely gets mentioned as the 2009 starter, which takes all of the pressure off of him. Will he wind up on the field a lot sooner than people think? An AFC quarterbacks coach thinks it's a possibility.

"Freeman might as well get on the field because the future isn't Leftwich or McCown," he said. "They have a good enough O-line and running game."

I like how Freeman is flying under the radar like Flacco did in 2008.
If there is a perfect world, this Freeman won't see the light of day unless the Bucs are behind by 30 or up by 30 this season. Joe firmly believes bringing Freeman along slowly will be better.