Crown Tampa Bay 5-Year Cap Champions
June 30th, 2009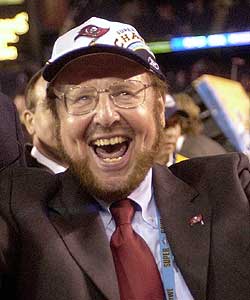 The proof is out there for all to see now on NFL.com. No team spent less real money on players over the past five seasons than your Tampa Bay Buccaneers.
Big shocker, huh.
But this rare glimpse at team figures allows the Bucs to finally get their public due as salary cap champions.
Congratulations. No team spends less with such skill. Joe is applauding. Bruce Allen, you can pick up your ring at One Buc Palace (it's fake gold, of course) then you can go up to Hollywood and accept the Oscar for best actor in drama.
Jason La Canfora, NFL.com blogger, lays out the totals teams spent on players over the past five years. The Bucs check in at No. 32, at $449 million, right behind the Chiefs at $451.58 million. Here are some notables from the list:
Team Dollars, in millions
1. Cowboys $566.89
2. Seahawks $552.42
3. Redskins $547.37
4. Colts $532.77
5. Vikings $526.87
6. Texans $522.23
7. Saints $518.49
8. Steelers $516.69
9. Panthers $516.09
10. Patriots $513.31

16. Jets $502.53
19. Giants $497.63
20. Eagles $495.75

26. Broncos $485.40
29. Titans $465.29
30. Packers $457.16
31. Chiefs $451.58
32. Buccaneers $449.00
To be fair to the Bucs, the list shows there is no correlation between spending big Bucs and winning a Super Bowl. 
And while the Bucs spent about $10 million less per year than the middle of the pack (roughly 5 percent of Manchester United's payroll), they clearly were among the top spenders in coaching salary during those five years. Monte Kiffin and Chucky were among the league's top paid in their respective positions. If these numbers really mean anything, then that has to count for something.
That said, the numbers don't mean much at all, unless you got one of those 30 percent ticket price hikes last year, or you're troubled by Bruce Almighty's endless spin about shuffling cap money and the Bucs supposed challenges under the cap.
Sadly, Joe really has to question even further whether Mark Dominik has his hands tied or is free to spend the Bucs available wad of money under the cap.
Sure seems like he's playing without the keys to the safe. Or he just wants the Bucs to grab the cap championship in 2009.
 Everybody loves a winner.