Chucky Hired For Monday Night Football
May 18th, 2009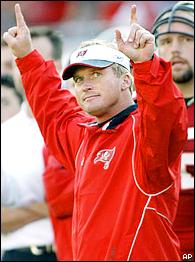 Twitter is blowing up with the news that Chucky has been hired.
The Watchdog, Neil Best of Newsday, is confirming that BSPN has hired Chucky to work Monday Night football. Out is one of Joe's all-time favorites, Tony Kornheiser.
Kornheiser cited the grind of the travel schedule, which from the start has been his biggest complaint about the job. He has an intense fear of flying and tried to avoid doing so whenever possible.

Only six of ESPN's regular-season games in 2009 are scheduled for the Eastern Time Zone (Kornheiser lives in Washington, D.C.), and there are games in Oakland, San Diego, Denver and San Francisco.
Chucky recent worked for the NFL Network on the combine and draft coverage and his work on the draft was outstanding.
Chucky now joins Ron "Jaws" Jaworski and Mike "Moving Forward" Tirico in the booth. This prompts Joe to ask why offensive-minded people get the best jobs in the booth?
Joe knows BSPN wants chatter in its booth so why not put Matt Millen, one of the greatest linebackers to ever play football, in with Jaws? Granted, Joe believes Chucky will do well. Joe just wishes Chucky would have worked NFL Network games (which still has an opening with Chris Collingsworth now working fulltime for NBC).
The best thing to come out of this is that now Kornheiser can return to radio. Kornheiser had the best national sports radio show Joe has ever heard. Joe dearly missed him on satellite radio.