Where's Rachel?
April 3rd, 2009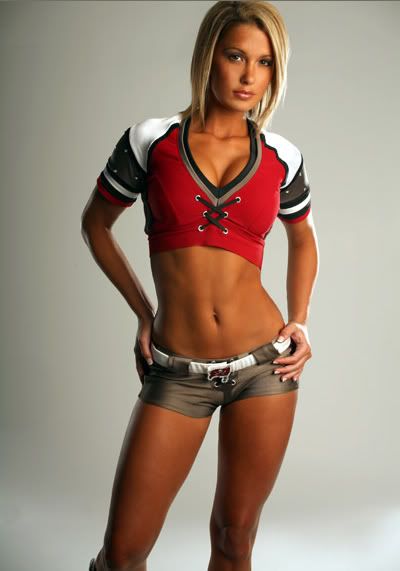 Joe has made no secret of his lust for Bucs cheerleader Rachel Watson, one of the loveliest ladies Joe has ever laid his eyes on.
If some are offended by that statement, sorry. Joe is a man: He loves football, the NFL Network and young, buxom, tanned cheerleaders including Rachel.
So in reading various local reports on the tryouts for the 2009 Buccaneers cheerleading squad, and watching the meticulous and in-depth reporting of WFLA's Dan Lucas on the event, Joe has not read, heard nor has seen any mention of Rachel.
Could this be the end of an era? If there is some reason that is keeping Rachel from continuing her duties as a Bucs cheerleader, this would be nothing short of a crime against humanity.
Surely there are some readers of JoeBucsFan.com who know of Rachel's whereabouts. Has her cheerleading days come to an end?
While Joe is not a stalker, Joe does know where Rachel works out. If Rachel is ever of the mind, Joe will be happy to offer his services for a private, intense yet intimate workout.
Joe is confident Rachel knows how to use e-mail.
Joe still can't get the thought out of his mind — no, not that thought! — that Rachel's days as a Bucs cheerleader may have come to an end.
Say it isn't so Rachel.