Backwards Hat Wants T.O.
March 7th, 2009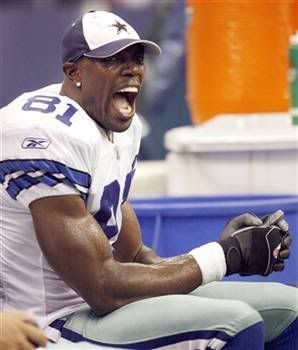 Joe hasn't heard from Backwards Hat (Rick Brown of the Lakeland Ledger) in a while, mainly because he hasn't cut a video or he hasn't been writing about what a great quarterback Son of Bob is.
So this afternoon Joe decided to check on Backwards Hat to see what he's up to. And Joe found out Backwards Hat is up to no good.
He is actually lobbying for the Bucs to sign the ultimate malcontent Terrell Owens.
Sadly for Backwards Hat, he paints himself into the corner right away in his column, giving five reasons why the Bucs need TO.
First, what is the ultimate goal of a team? It is to win a Super Bowl. Owens has 38 touchdowns over the last three years. Tampa Bay's entire receiving corp (including tight ends) have just 36 touchdowns in the last TWO years. Do you think Dallas is a better team now that it has cut him? Simply put, T.O. would make any team better.
Siimply put, Backwards Hat needs to sober up. Hey Rick, feel free to list the number of rings TO has won. Uh, that would be about the same number of times Joe has gone to bed with Carrie Underwood: none!