Gameday Tampa Bay
November 2nd, 2008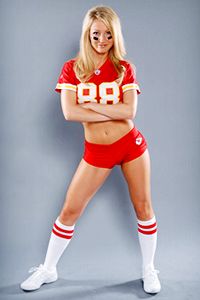 Bucs (5-3) at Chiefs (1-6)
Week 9
Kickoff: 1 p.m.
TV: FOX, WTVT Channel 13.
Radio: Buccaneers Radio Network (in Tampa WFUS-FM, 103.5 and WDAE-AM, 620); Sirius Channel 107.
Weather: Per AccuWeather.com, really good football weather with a kickoff temperature forecast for 66 degrees under partly sunny skies. Temperatures are expected to rise slightly to 70 by game's end.
Odds: Per Bodog.com, Bucs -9.
Outlook: The Bucs have to do a number of things before they are among the NFC elite. The first is to score touchdowns. The NFL isn't soccer. Kicking a ball between goal posts is not the objective of the game. Score some touchdowns!
The Bucs have the manpower to do it. If Camella's husband is too scared to let his receivers make plays, then get Luke McCown in there. This dinking-and-dunking is pure nonsense as is Chucky's weak excuse that the Bucs don't have the running backs. Even if the Bucs have both their top two fullbacks and Warrick Dunn out they still have the talent both in the backfield and up front to run the freaking ball!
This dink-and-dunk crap enables the opposing team to stay in the game and we Bucs fans know all too well what that was like last week against Dallass.
If the Bucs get the ball in the end zone this game should be a no-brainer. If the Bucs are kicking field goals in the first half, look out!