Gameday Tampa Bay
October 19th, 2008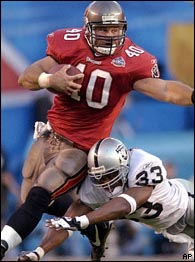 Seahawks (1-4) at Bucs (4-2)
Week 7
Kickoff: 8:15 p.m.
TV: NBC, WFLA Channel 8.
Radio: Buccaneers Radio Network (in Tampa WFUS-FM, 103.5 and WDAE-AM, 620); Sirius Channel 127.
Weather: Per AccuWeather.com, fantastic football weather with temperatures expected to be in the mid-60s under clear skies at kickoff with temperatures slipping into the low-60s at the end of the game.
Odds: Per Bodog.com, Bucs -11.
Outlook: Seattle has never lost a game in Tampa. That should end tonight. The Seahawks are starting Seneca Wallace at quarterback, a glorified option/slash type quarterback. The Bucs defense should eat him alive so long as they contain him. Given the fact the Bucs have faced guys like Michael Vick in the past and contained him, they shouldn't have a problem with Wallace.
As usual with the offense, the Bucs should use their great offensive line and pound the rock until the Seahawks scream for mercy.
This game really shouldn't be close. And those are the types of games to worry about.
As an added bonus, the Bucs are honoring former great, fullback Mike Alstott at halftime. Thanks for the memories, Mike!